Продажа
Продажа девайсов, жидкости и т.д.
---
SECTION RULES AND RATINGS
Attention!
These rules are set for the "Sale" section on our forum.
And so, in this section, "Seller Rating". The rating will be visible to all users of the forum!
All users in this section who create the topic of sale and buy goods below the avatar we see the following information: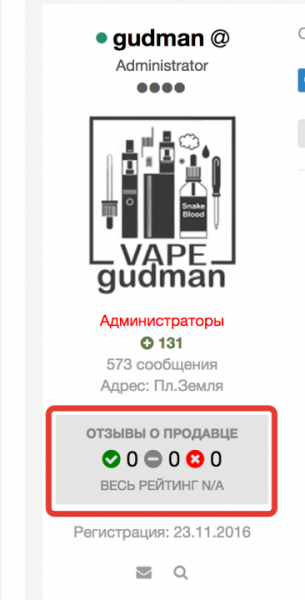 This means that any user who has bought from another user any product can expose this seller a reputation and write a review.
Thus, everyone will see how honest and necessary this or that seller is.
Also information about the seller can be viewed from his profile:
Для того чтобы написать отзыв продавцу, нужно перейти в личных кабинет продавца, во вкладку "Отзывы" и нажать на кнопку "Добавить отзыв"
After that an additional window will open where you will need to specify in which topic you bought the goods, what rating you put for
This seller and write a simple or complex feedback about this seller.
Exactly in the same way, Sellers can leave feedback and expose a rating for buyers. It is important for us to know that everyone is in equal conditions.
And "kiddies" from the buyers also happen.
 
This instruction is not mandatory but highly desirable! Help other buyers be sure of the sellers from whom they buy this or that product.
IMPORTANT: If you have any disputes, please click the "complain" button in the message of the seller or the buyer.
The administration of the forum will launch the proceedings.
THIS SECTION IS INTENDED FOR PLACING ANNOUNCEMENTS ON SALE FROM PRIVATE PERSONS! PLACEMENT OF ANNOUNCEMENTS FROM SHOPS ON HARMONIZATION WITH ADMINISTRATION!
Subforums
By жак

By brein.store

By taganka22
363 topics in this forum
2,198

replies

345,974

views

2,242

replies

102,083

views

1,551

replies

61,334

views

2,451

replies

94,483

views

1,505

replies

55,513

views
Recently Browsing

0 members

No registered users viewing this page.